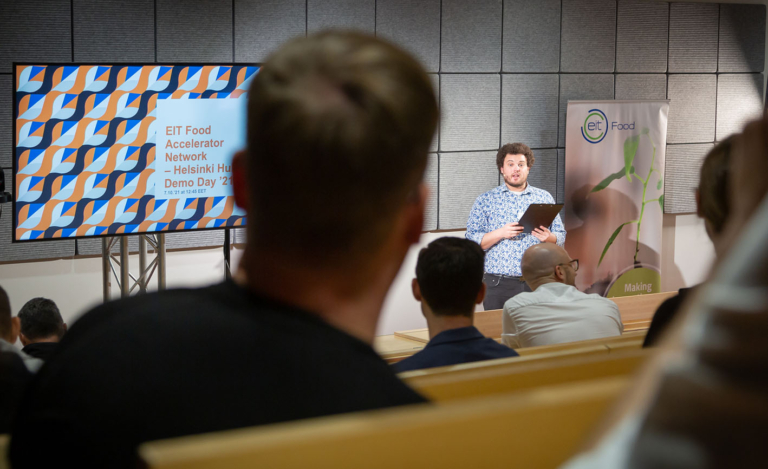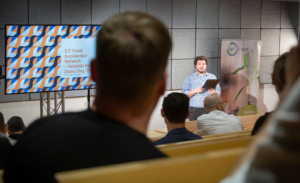 The VTT-led FAN Helsinki Hub organises a completely free-of-charge acceleration programme for agritech and foodtech startups solving global food system challenges. Applications can be submitted until the end of February. Ten innovative startups will be selected for the four-month programme and they will receive individual mentoring from academic and commercial programme partners. To date, the FAN Helsinki acceleration programme alumni have raised over €40 million in funds.
EIT Food is Europe's largest agrifood startup community bringing together entrepreneurs with one goal: solving the global food system challenges through science and technology-based innovations. The EIT Food Accelerator Network's (FAN) seven hubs provide acceleration programmes to support science and breakthrough of technology-driven startups. The startups are guided by local mentors and partner organisations. They will also have access to a global partner network, including over 40 companies such as Danone, Pepsico, John Deere, Döhler and Zoetis.
In the past two years, the EIT FAN Helsinki hub has supported the growth of 20 selected agrifood startups. The Helsinki hub is led by VTT Technical Research Centre of Finland, and the University of Helsinki continues as its main partner. One of the programme's main goals is to help the startups raise funds – to date, the FAN Helsinki acceleration programme alumni have raised over €40 million in funds.
"We are now on the lookout for applications by innovative agrifood startups with a focus on sustainable agriculture or digital traceability. We accept applications from all pre-seed stage startups across Europe. As the FAN Helsinki Hub is in the geographical proximity of the Baltics and Poland, we would love to welcome teams also from that area this year. Previously we have selected teams from Finland, Sweden, Belgium, and Austria," says VTT's Co-Creation Manager and EIT FAN Helsinki Hub leader Mirva Lampinen.
The application period for Helsinki hub's third acceleration programme runs until the end of February. A panel of impartial experts will select ten teams for the four-month programme starting in June.
The EIT FAN acceleration programmes provide startups with a unique opportunity to receive high-quality mentoring without future commitment or fees. Last year, one of the FAN Helsinki acceleration programme's participants, Volare, found themselves quickly at the same table with the programme's corporate partner, the Paulig Group.
"We started facilitated discussions with the Paulig Group during the programme, and the discussions led to a collaboration. We now have inspiring plans for the future together. The EIT FAN Helsinki programme provided us with many tools, sparring, and connections that have enabled us to achieve so much in such a short time," says Volare's COO, Jarna Hyvönen.
Alumni success stories paint an encouraging picture for future programmes
The FAN Helsinki acceleration programme has received excellent feedback from the participating startup teams.
"Since completing our EIT FAN participation in the autumn of 2020, things have been progressing exponentially at Mycorena. Most notably, we closed a €7.7 million funding round in June of the following year, a process that was greatly helped by the insights on fundraising and due diligence processes from the programme and its fantastic mentors. Without EIT FAN, we would not be where we are today," says Helsinki programme alumnus Anton Johansson, CFO at Mycorena.
Last year, the FAN Helsinki Hub received over 80 applications from 21 countries, which made it possible to select a high-quality set of teams for the programme. The Helsinki Hub has facilitated over 40 matchmaking sessions and run 7 EIT funded pilots during the past two programmes. This year, the target is to increase the number of pilot projects.
EIT FAN provides agrifood startups with great collaboration opportunities
The EIT FAN grew by another regional hub last November when the French hub was opened in Paris. The network also gained a new global partner from the international food markets, International Flavors and Fragrances IFF. The EIT FAN core partners provide unique collaboration opportunities to all startups in the programme.
The EIT FAN Helsinki hub consists of a vast network of local experts and mentors with both commercial and academic backgrounds as well as the programme's local corporate partners. The 2022 programme will start on June 8th.
This year the Helsinki Hub welcomes a new corporate partner to the acceleration programme, Lantmännen Group.
"Lantmännen is excited to join EIT FAN Helsinki Hub. We strongly believe that, in the future, breakthrough innovations and disruptions require collaboration between different players in the agrifood ecosystem. Therefore, we look forward to exploring opportunities together with the startups but also providing them with support and contacts," says Nina Tuomikangas, Project Manager Innovation at Lantmännen Group R&D.
Apply here
Register and apply here: https://entrepreneurship.eitfood.eu/accelerate/
https://fei-online.com/wp-content/uploads/sites/4/2022/02/foodtech-startup.jpg
866
1418
panglobal
https://fei-online.com/wp-content/uploads/sites/4/2020/06/fei-online-logo.png
panglobal
2022-02-15 10:55:01
2022-02-15 10:55:01
Startups invited to VTT and EIT FAN third agritech and foodtech accelerator